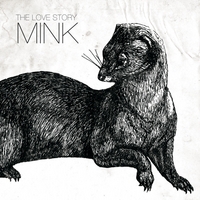 The Love Story
Mink
Blonde Records [2009]
Fire Drill Review:
You may remember The Love Story's Steve Albini produced self-titled record in 2007 that earned the NYC group some national attention. Well
Mink
is The Love Story's sophomore LP and third overall release that expands on their earlier work and offers another entertaining listen. When it comes to their sound think Cocteau Twin's, Siouxsie, Sonic Youth and My Bloody Valentine all mixed together that forms a blend highlighted by the floating siren like vocals of Molly Donahue.
Mink
is a 3o minute wall of sound and reverb that keeps a steady pace and drones with a set purpose. The Love Story proves that you can slowcore in compact pieces and not conform to one speed or lengthy tracks like in the rowdy under 2 minute opener "Passerby". The group has bursts of energy that oozes out of their songs, which state their case in 3 to 4 minutes that is perfect to keep listeners interested and provide solid repeat plays!
Key Track:
"Passerby"
Band With Similar Fire:
Sonic Youth
Official Love Story Website
The Love Story MySpace
Blonde Records
-Reviewed by Natalie Colibri